co-working venue + hot desks + meeting lounge
Club 66
0800 1223466
Hot desks
Co-working Space
Private meeting rooms
Client meeting lounge
with
Superfast secure WiFi
Air conditioning
On-site lunch delivery
Unlimited refreshments
Multiple charging points
safe
Protective Screens
Sanitiser stations
Improved ventilation
Membership Referal Rewards
Virgin Experience or Amazon vouchers worth £125
for full details speack to our club manager.
Drop In
£20 one-off visit
Drop in and use Club 66 facilities on a pay-as-you-go basis subject to availablility during normal office hours between 9am and 5pm whilst the Club Manager is on site.
Block of Six
£90 for Six Visits
Buy six Club 66 Day Passes to be used within a three month period. Only available during normal working hours 9am to 5pm when the Club Manager is on site.
Part-Time Membership
£75 for Two Days per Week
24/7 access to Club 66 two days per week or eight days each month, Participation in Networking events with other members. Discounts on Boardroom bookings and with our partners including Mustcard and Snap Fitness
Off-Peak Membership
£90 Evenings + Weekends
Full use of Club 66 evenings from 6pm to 8am on weekdays and unlimited access at weekends. Participation in Networking events with other members. Discounts on Boardroom bookings and with our partners including Mustcard and Snap Fitness
Full Membership
£135 per month
24/7 access to Club 66, use of a private room for meetings and confidential conversations on a first come first serve basis with the first hour included within your membership fee.

Lockers are available to store your valuables any day you are working from Club 66.

Participation in Networking events with other members.

Discounts with our partners including Mustcard and Snap Fitness
No ongoing contractual commitment.
With all Membership options, you remain a member of Club 66 for as long as you want to use our facilities.
If you wish to leave, simply let us know prior to the end of a month and you will have nothing more to pay.
The world has changed, and you may be feeling that working from home is less than ideal, so you are seeking an alternative to commuting to the office. You need a good resilient internet connection, air-conditioning and to avoid distractions from children and pets. Club 66 provides a local third option to the daily commute to an office and working from home. Our co-working venue has hot desks, private meeting rooms and a lounge area to meet with clients and business associates. Oh! And there is coffee too, what more could you want?
Flexible Working
Monthly Membership gives you everything Club 66 has to offer; however, you can dip your toe in the water and try us out with a One-Day Pass or buy a Block of Six at reduced cost. You can also join Club 66 with a Part-time or Off-Peak Membership. We provide the perfect third option as we seek a new way of working. Rather than commuting five days a week to a centralised office like you did in the past, join the new way of working, meeting with colleagues in the office occasionally and using Club 66 as a better alternative to working from home.

Safe

We have installed protective screens, hand sanitiser stations at the entrance to the club, outside the toilets and adjacent to the coffee machine and snack bar plus an enhanced the ventilation system to provide a safe environment for you to work. Face masks and gloves are made available for additional protection.

We clean the hot desks and meeting areas after every use and the whole of Club 66 is cleaned each evening ready for the next day.

Networking

There are networking opportunities at your fingertips with meet-ups and "after work" events – it's the best place in Godalming for growing your business. We have a community board and business card holder for members who wish to promote services within the club. We hold frequent networking events throughout the year to give you the opportunity to meet with other members. By opting in to our "anytime" service, you authorise us to proactively introduce you to other Club 66 members who might make a good fit for your business. We can help facilitate introductions. You can take it from there.
Location
Club 66 is located in the centre of Godalming High Street with its wide range of shops, all the main banks, excellent restaurants and bars.
The Crown Court pay-and-display carpark is nearby and Godalming station is only a five-minute walk with fast trains to and from London every half hour.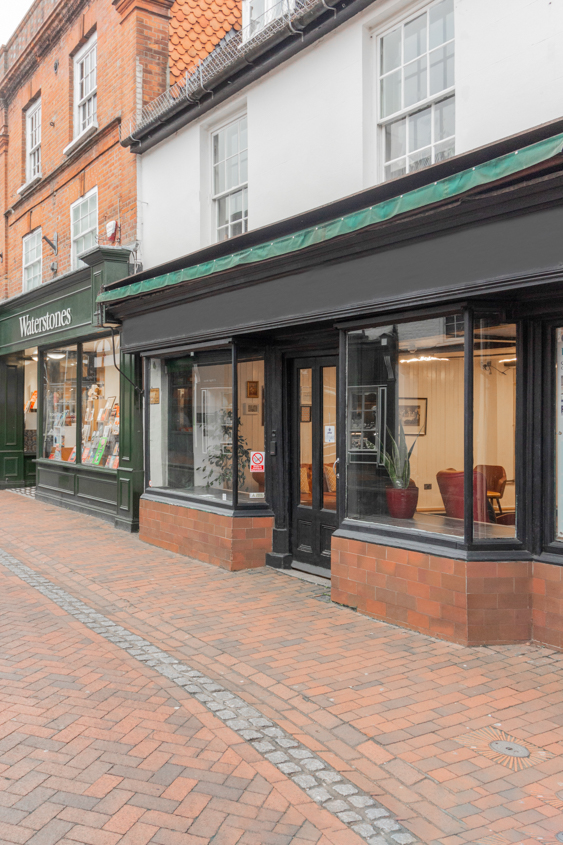 We are here to cater for all of your working needs; with comfy sofas and chairs with coffee tables, café style tables and chairs and hot-desks to facilitate whatever your working day might look like. We provide fresh bean-to-cup coffee and tea with various milk options, water and snacks for you to enjoy whilst working in the club. Secure Wi-Fi connected to the outside world via super-fast fibre, whilst charging points throughout the club enable you to keep your electronic devices working. An A3 colour printer/scanner/photocopier is also available to use. All with 24/7 access to the club by simply calling the front door from your mobile phone.